She Code™ helps women who are struggling with menstrual cycle related hormone symptoms like heavy, painful or irregular periods, acne, bloating and mood swings, feel better, fast!
Fed up of being told your menstrual cycle related symptoms are "normal" and you just have to put up with them? 

You're not crazy for thinking that something isn't right with your hormones. You can trust your gut feeling. Your hormones ARE out of balance. What's crazy is that you've been told it's "normal", and you're expected to continue living like this.
Because you definitely don't have to go through this every month!
Does any of this feel familiar?
You have acne that's destroying your self-confidence (and costing you a fortune in products and treatments!)
You have really heavy periods or crippling period pain which is debilitating, totally wiping you out every month and forcing you to put your whole life on pause
Your periods are really irregular or have totally gone missing and you don't understand why
When you are PMS-ing you feel really angry, moody, low, anxious or irritable, you feel like your hormones are controlling you and you're on an emotional rollercoaster
You have PCOS or endometriosis and are really struggling with your symptoms
You've had enough of googling your symptoms, being faced with lots of conflicting information and feeling overwhelmed, confused and hopeless
You want to get the bottom of why it's happening and find a long-term solution that really works for you
You feel like nothing you've tried so far has worked and you need help navigating this, you can't do it alone
Imagine…

Having clear, acne-free, glowing skin

Having easy, pain-free periods and lighter bleeds


Feeling balanced, calm and in control of your emotions
Sleeping well through the night and waking up feeling rested


Feeling deeply connected to your body, more confident and happier than ever before
Sounds too good to be true? It's not.
Because I've created the solution to help you get there.
In She Code, all of this, and more, is possible
This is for me, let's go!
"I cannot rave about this programme enough!
I had been struggling for years with cystic acne, bloating and irregular cycles. Now my skin is amazing! I have no acne at all, my skin is glowing, my bloating has gone and my cycles are regular. I am so happy."
- Anick Martinez
I'm the nutritionist, naturopath, award-winning author, speaker and leading health expert who helps women tackle their menstrual cycle symptoms.
I have 15 years (and 25,000+ hours) of clinical and teaching experience in natural and preventative medicine under my belt. And I started creating courses all the way back in 2009!
I've helped thousands of people from all over the world go from stuck and struggling with their menstrual cycle related symptoms to healing their hormones, transforming their symptoms, and living their best lives. 
So I know that when you provide the body with the right raw materials and tools, it will naturally regulate and rebalance its own hormone production. 
Inside the She Code programme you'll find my 12-step system that has been proven to work by so many of my clients.
You'll learn why your symptoms are happening and exactly what to do about them (the precise steps you need to take), so you become an empowered creator of your own health and happiness.

 X
"I have suffered with endometriosis for almost 20 years
and this is my SECOND consecutive cycle without ANY endometriosis symptoms! And I haven't suffered with any cramps, sore boobs, hormonal acne, meltdowns or PMS either!"
- Lauren Lidford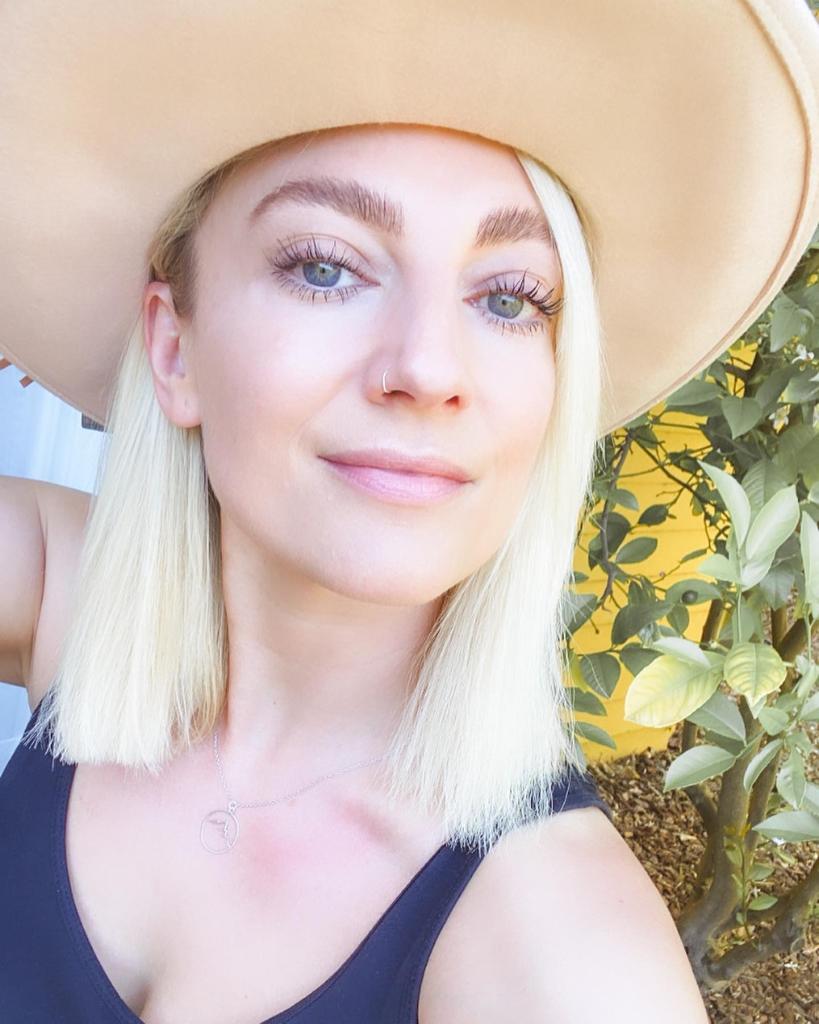 Some of the results my step-by-step, time tested methodology has helped my clients achieve...
Completely clear their adult acne
Establish regular cycles (after years of irregular or missing periods)
Reduce (and eliminate) painful menstrual cramps
Balance PMS-related mood swings, low mood and anxiety
Eliminate menstrual headaches
Get rid of ovarian cysts - follicular cysts of PCOS and complex larger cysts
Eliminate the severe pain, bloating and nausea of endometriosis
Much improved sleep and lots more energy
A smoother menopausal transition (without hot flashes, insomnia or mood changes)
"To my amazement, since the change in diet and other tools you gave me, I now have no PMS symptoms (now on my 3rd month).
Your patience & understanding, your professionalism throughout the programme (attention to detail, always on hand to respond, non–judgmental, easy to relate to and trust) and your knowledge and tools have all been a huge help towards making me make these life changes."
- Jacqui Seatal
"After coaching thousands of women, I know that this code WORKS."
Let me introduce you to my secret weapon that helps you rebalance your hormones and your cycle and stop your hormonal acne in its tracks…

She Code is the programme that helps women with heavy, painful or irregular periods, acne, bloating, mood swings and more, feel better, fast!   

SHE CODE is a video-based course and community (with LIVE group sessions twice
every month
) that gives people who are struggling with the symptoms of menstrual related hormone imbalances (like you!) the knowledge, strategy and tools to tackle their symptoms and turn their health around.
Sounds amazing - sign me up!
She Code guides you step-by-step, through my signature 100% natural method for achieving balanced hormones.
---
This is the same 12-step methodology that I have used successfully with my 1:1 clients' in my clinic for the past 14+ years, helping them regain control over their menstrual related symptoms, and their lives.
How does She Code work?
The Science: The She Code Method
Regulating your blood sugar and insulin output to rebalance your sex and stress hormones
Incorporating nutrient dense, functional foods to support healthy hormone function and each phase of your menstrual cycle
Eliminating inflammatory foods and introducing anti-inflammatory foods to reduce painful cramps and menstrual headaches
Promoting and enhancing the detoxification of sex hormones via the liver and gut
Strategies for a healthier gut and regular bowel movements - essential for balanced hormones
Giving you tools and rituals to manage your stress, improve your sleep and reduce time spent in "fight or flight" so stress hormones no longer cause menstrual cycle havoc!
She Code is clinically informed and evidence based. It combines the best of cutting-edge science with the wisdom of traditional medicine.
Just Think of...

All the hours you could get back if you weren't being floored by painful cramps, headaches or heavy bleeding, holding you back from getting things done, working, exercising and socialising.


All the £££ you could save yourself each year that you are currently spending on creams, lotions and other products that don't work, trying to get rid of your acne.
I need this!
"I had been suffering for years, first with the endo pain and then, from the side effects of the hormone therapy.
Now I feel better than I've ever felt in my life and I got pregnant the first month we tried! For me, meeting you was destiny. You supported me through this whole process of change and the results are better than I could have ever imagined! You helped me more than all doctors over the years and all the medications I took. Thank you so much!"
- Nadine Matti
Think about where you want to be 6 months from now…or even 1 month from now. Do you have a proven plan to get there?
She code is everything you need to..

Identify the root causes of your symptoms so you feel empowered and able to take back control
Get clear guidance on what to eat and what not to eat –
so you feel confident
that what you are eating and drinking is supporting your hormones and your cycle
Manage your stress so you
feel happier and more content
and can
tackle your symptoms as stress is a
major
cause of sex hormone imbalances!
Get the right tests to
give you answers
to what's really causing some of your symptoms


Understand the best supplements to take to target your symptoms, so
you start to feel better
Let's look at what you'll learn in each of the 12 modules
12-Module Programme Structure
MODULE #1
UNDERSTANDING YOUR CYCLE + BALANCING YOUR BLOOD SUGAR
Contains the basics that you need to know to properly understand your hormones, your body and the different phases of your menstrual cycle, you'll learn how exercise affects your cycle (and how your cycle affects exercise) and the most important first foundational food principle – the nutrition framework you absolutely must put in place before you do anything else! You'll get resources to show you how to track your cycle and help you make blood sugar balancing meal swaps.
MODULE #2
STRESS, SLEEP & YOUR HORMONES
You will learn how stress impacts your female sex hormones, the importance of sleep for hormone balance & how to improve yours and about the incredible medicinal drinks that will help you to rebalance your hormones & ease your symptoms. Resources include a good sleep guide and recipes for medicinal drinks to help rebalance your hormones.
MODULE #3
WHAT TO CUT BACK ON AND WHY
Will explain what foods and drinks you need to cut back on & and you'll learn why this is so important, plus you'll get resources on how to get enough calcium in your diet without dairy and a downloadable pdf to help you make hormone friendly food swaps when you do your food shop.
MODULE #4
THE MAGIC OF MINDFULNESS
This is all about the power of bringing more presence into your life – why it's so important to commit to a daily meditation practice to achieve hormone balance plus how to practice mindful eating (a simple technique which will impact your digestive health, mental wellbeing and hormone balance!)
MODULE #5
LOVING YOUR LIVER & HORMONE-BALANCING FOODS - PART 1
You learn about the key medicinal hormone balancing foods which you will incorporate to really turn your hormone health around & the role of the liver in female hormonal balance and how to support the removal of old sex hormones from your body via your liver (which is a key part of balancing your hormones). Resources include how to harness the power of castor oil packs for hormone balance and recipes which incorporate these hormone balancing foods.
MODULE #6
HORMONE-BALANCING FOODS - PART 2
We cover more incredible medicinal hormone balancing foods which you will learn how to use to help you restore your hormone balance plus you'll learn the truth about soya and whether it's good or bad for your hormones. You'll also get more recipes to help you incorporate these foods.
MODULE #7
HOME DETOX FOR HEALTHY HORMONES
This is a beauty product & home detox; we cover everything from your skin care to the water you drink to your clothes and homewares as these things have a huge impact on your hormone health. You'll discover how to make your environment work for your hormone health rather than against it!
 And you'll get a resource to help you make these changes easily.
MODULE #8
THE POWER OF YOUR BREATH & DIGITAL BOUNDARIES
We delve into the power of your using your breath to support your nervous system, reduce stress hormone production and rebalance sex hormones plus how better digital boundaries will help you improve your mental and emotional health and rebalance your hormones too!
MODULE #9
HEALTHY GUT, HAPPY HORMONES
We'll focus on improving your gut health for hormonal balance – you will learn how to improve the health of the microbiome in your gut and have more regular, healthy bowel movements – this is SO important because you can't have good hormone health without good digestive health.
MODULE #10
SUPPLEMENTS TO SUPERPOWER YOUR RESULTS
This is all about using natural supplements & botanical medicines to rebalance your hormones. I will take you through my top 13 hormone balancing supplements which I use successfully in my clinical practice, you'll learn exactly how they work, how they can help you and how to use them.
MODULE #11
UNDERSTANDING YOUR SYMPTOMS & PIMPING YOUR PERIOD
If you have PMS, PCOS, heavy or painful periods this module helps you understand the root causes of your symptoms, gives you guidance on how to better manage these symptoms, tests to get & teaches you about the power embedded in your period and how to make this time both pleasurable and empowering.
MODULE #12
SHUSHING YOUR INNER CRITIC
Will give you methods to help you turn down the volume of your self- sabotaging inner voice which can get in the way of you sticking to the programme, making progress and getting the best results & summarises how you can stick to the stress reducing rituals going forwards.
Because when your periods are really painful, heavy bleeding wipes you out every month, your mood swings are out of control, you feel bloated, have monthly headaches, acne, excess body hair or your sex drive has gone missing, there are huge ramifications on your wallet, self-confidence, career, social life, relationships... on everything!
So, are you ready to dive into She Code and become part of an amazing community of women who are taking control of their cycles, their symptoms and their happiness?
I'm in!
What do you get when you join She Code? What's included in the programme?
12 Modules
All the information, inspiration, structure and tools you need to make the simple but impactful lifestyle and diet changes that will transform your hormone health and your menstrual cycle related symptoms
Video Masterclasses
Easy-to-watch video masterclasses with doable action steps that you can start implementing straight away and build upon week to week.
Downloadable Worksheets and Resources
To support your journey and make implementing your new habits easy
86 Hormone Balancing Recipes
Simple, healthy, delicious recipes to make getting more functional foods into your diet easy 
Live Group Q&A Coaching Calls with me 2x 60 minutes monthly
To ask your burning questions and get personalised advice and expert support along the way – all live sessions are recorded so they can be viewed at any time
A Supportive Sisterhood
Connect with an amazing community of like-minded women, share stories and celebrate your wins in a private, members only Facebook group – you can also receive support from the She Code team in here!
Lifetime access to the course content
So you can come back and keep benefitting from the course content at any time
"Massive breakouts, sleeping so badly and periods worse than World War 2...Let's not forget all the magical creams and potions I'd experimented with, that were supposed to give me clear, glowing skin.. that didn't work!
The results from the programme not only literally cleared my skin up completely, but I'm also sleeping better, I actually understand how to eat healthier, I am feeling sexier and more confident, I feel like I have a grasp on my hormones and better yet, my life!"
- Steph Ellien
What is this programme really worth to you if…
you get rid of your endometriosis symptoms

you are free of painful menstrual cramps

you finally manage to conceive a baby naturally

you clear your acne and your skin is glowing

you eliminate your ovarian cysts

you go from exhausted to full of energy

you're not bloated or constipated anymore

your PMS mood swings, low mood and anxiety disappear

you are falling asleep easily and waking feeling rested
The worth of this content is immeasurable because it can impact you in life altering ways - this programme is literally priceless!
"For a whole year I had savage acne. I was so embarrassed by it. At the end of 2020 enough was enough, I knew I had to stop trying to figure it out on my own and invest good money in someone who could help me.
Within two weeks of starting your protocol, my energy levels had increased massively. Within 4 months, I looked and felt like a completely different human. I had lost SO MUCH puffiness. My skin had MASSIVELY cleared up.
- Paige Graham
What Are THE Next STEPS?
---
Click any one of the buttons on this page


You'll get whisked to a 100% secure checkout page


Choose your payment plan


Head over to your email to get INSTANT access to your membership
EMPOWERING YOU TO TAKE CONTROL OF YOUR HORMONE HEALTH

What I can't do, is all the heavy lifting for you.
What I CAN do, is show you the exact steps to take to become an empowered creator of your own health!
This is going to require you to fully commit and make some sacrifices and changes to your diet and lifestyle, BUT if you invest time and effort into this, follow all the steps and turn up to the live calls you WILL get results
How hard is it to make the changes? I'm struggling with my hormones but I'm worried about radically changing my diet and lifestyle
Can I do the course if I am on the oral contraceptive pill, have an IUD or am on some other form of synthetic sex hormone medication?
What happens if I can't make the calls live?
How much time will the course take up each week?
How long will it take for me to see results?
Are there payment plans available?
My question hasn't been answered here. Who can I talk to?
P.S.
Here's the truth:
If you are done with your menstrual-related hormone symptoms holding you back in life and costing you time and money, and you want things to be different, you need to actually
do
things differently!
I need this!
DISCLAIMER: we do not claim to treat, diagnose or advise on medical issues, and we always encourage you to work with your Doctor and discuss any symptoms and health concerns with them. We are not providing medical advice in this course and it is not a substitute for medical care. Please consult with your health provider on anything new you're planning on implementing
TESTIMONIALS: I present testimonials and insights about other people's experiences with my programme for purposes of illustration only. The testimonials, examples, and photos used are of actual clients. They are not intended to represent or guarantee that current or future clients will achieve the same or similar results; rather, these testimonials represent what is possible for illustrative purposes only.